An autographed book is a lifetime treasure.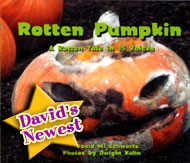 Rotten Pumpkin
The Rottenest Science Book Ever!

with photos by Dwight Kuhn
Compost will never be the same after you've seen the amazing transformation of a Jack O'Lantern from grinning pumpkin to mold-mottled wreckage to hopeful green shoot. Part story, part science, and a whole lot of fun.

"Moldy splendor!" — Betsy Bird, New York Public Library.

"Simple, fun, yet informative book that would be handy in any science classroom!" — Ian Lesser, Science Teacher and Curriculum Writer
---