Super Grandpa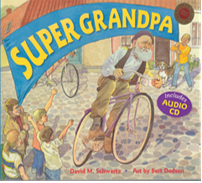 Super Grandpa is the true story of a 66-year old grandfather who won the hearts of his Swedish countrymen by riding his bicycle more than 1,000 miles in the Tour of Sweden — and finishing first! More than 50 years later, he is still remembered in Sweden. Gustaf's intergenerational tale holds timeless messages about the need for perseverance, the scourge of discrimination and the value of pursuing one's dream. Illustrated by Bert Dodson.
Ages 5-9 (Tortuga Press)
$20 / $12 / $8 (see details below)
English or Spanish. Audio CD also available.
Ordering Information
Online orders processed securely by PayPal. Sales tax added for California residents.
FREE Shipping for orders above $50 – Show Shipping Charges
Shipping Charges:
$2.50 for orders up to $10.00
$4.50 for orders of $10.01 – $30.00
$6.00 for orders of $30.01 – $50.00
ALL BOOKS ORDERED HERE ARE AUTOGRAPHED. For a special inscription,
please be sure to fill out the request field on checkout located below your address.
If left blank, David will autograph ONLY. This is how the field looks:

Super Grandpa
(hardcover with CD)
ISBN 978-188-991-0333
$20.00
Super Grandpa
(paperback with CD)
ISBN 978-188-991-0345
$12.00
Super Grandpa
(paperback)
ISBN 978-188-991-0345
$8.00
Superabuelo – Spanish Edition
(hardcover with CD)
ISBN 978-188-991-0376
$20.00
Superabuelo - Spanish Edition
(paperback with CD)
ISBN 978-189-911-0384
$12.00
Superabuelo - Spanish Edition
(paperback)
ISBN 1-889910-33-3
$8.00